If there's one thing about fruit and flowers, it's that they pair perfectly together to create an eye-catching gift. When you give this awesome gift, your loved one will have a beautiful flower bouquet to brighten up any room, along with a delicious treat to enjoy. Another great thing about fruit and flowers gifts is that they are perfect for any occasion. Whether for a birthday, a token of appreciation, or simply a 'thinking of you' gesture, gifting a fruit and flowers gift is an infallible choice.
When sending a fruit and flowers gift, you want to make sure that it's just right for the person you're gifting it to. What kind of flower bouquet will they love? What kind of fruit will they enjoy? These are key questions you will ask yourself when choosing the right gift for them.
In short, although an amazing gift, putting together the perfect fruit and flowers gift can be stressful. So, we've created this guide to help you ace your next fruit and flowers gift. Here, you'll find inspiration and tips to choose the perfect gift.
Step 1: Choose a Bouquet of Just-for-Them Flowers
You want to make sure that the flowers in your fruit and flower gift are just right. We suggest choosing a bouquet of their favorite flowers to show how much you care. They'll be appreciative of how much thought and care went into your flower choice. Consider choosing our Thinking of You Flowers and Chocolate-Covered Strawberries gift if you're gifting to a rose-lover. This stunning bouquet of fresh-cut roses mixed with alstroemerias is a show-stopping addition to your gift. Plus, it already comes with delicious chocolate covered strawberries to make your gift complete!
Don't know what their favorite flowers are? That's okay too! Go ahead and choose a bouquet that fits their style. Look for a bouquet that includes flowers of their favorite color or one that will fit nicely amongst their home decor. Personalizing your gift with these considerations is a great way to enhance this already-awesome gift.
Step 2: Pick out Their Favorite Fruits
You've decided on a just-for-them flower bouquet and now it's time to pick out the fruit. There are many different ways that you can use fruit to complete your gift. Here, you'll find three ways to complete your fruit and flowers gift with their favorite fruits.
1. Fruit Basket
One option for your fruit and flowers gift is to include a fruit basket of their favorite fruits. Fruit baskets include a variety of fresh, whole fruits, providing them with weeks of delicious and healthy produce. This is a great option if you're gifting a housewarming present. They will be appreciative of your thoughtful gesture, as well as they're newly-stocked pantry.
2. Fresh-Cut Fruit Platter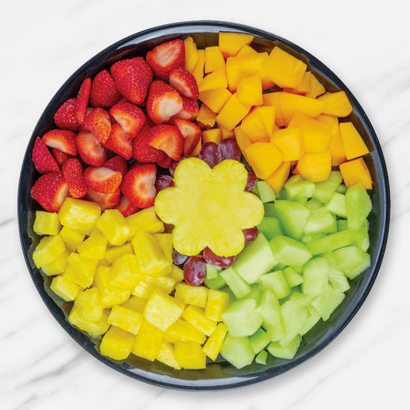 A fresh cut-fruit platter is another great way to incorporate fruit into your fruit and flowers gift. With a platter of their favorite fresh fruit, they'll have a delicious ready-to-eat snack to enjoy while celebrating whatever special occasion it may be.
3. Chocolate-Dipped Fruit
For a fruit and flowers gift that's extra sweet, opt for some chocolate-dipped fruit. Fresh fruit covered in decadent chocolate is a treat they're sure to love. For a ready-to-send gift that includes chocolate-dipped fruit, consider our FruitFlowers® Just Joyful Gift Set. It includes fresh strawberries dipped in delicious chocolate and is already paired with a colorful bouquet of fresh-cut flowers. Plus, it comes with a box of chocolates, making this fruit and flower gift all that more special!
Step 3: Put the Finishing Touches on your Gift
Now that you've picked the perfect flowers and their favorite fruit, it's time to complete your gift with a few finishing touches. If your gift isn't already packaged, choose a decorative box or basket for a stunning presentation. For some extra support and a decorative touch, add a base of fun tissue paper. Also, add in a card with a thoughtful message for whatever occasion it may be. Finally, tie it all together with a bow or ribbon and you'll have a beautiful fruit and flowers gift that's ready to give.
With this guide, you can choose the perfect fruit and flowers gift for anyone in your life. For ready-to-send fruit and flowers gifts, consider sending a FruitFlowers® gift, paired with decadent chocolate covered fruit that's sure to make them smile. Or, pick and choose the perfect flower bouquet and delicious fruits to create a just-for-them gift. Either way, you'll give a stunning gift that they are sure to love.